Como todos devem imaginar, muito eletrônica não é a minha praia. Pra mim banda tem que ter guitarra, baixo e batera, sendo teclado opcional de acordo com a PROPOSTA. Porém, não sou xiita, claro. Se fosse, não adoraria EURODANCE e não teria sido o responsável pelo ressurgimento do estilo nas Chinelagens Fabicanas. Mas fora esse estilo, pouca coisa eletrônica me chama atenção e tem espaço na minha coleção musical. Arrisco inclusive dizer que a única música ESSENCIALMENTE eletrônica que possuo além dos eurodances é I Feel Love, da DONNA SUMMER.
Descoberta por acaso há alguns anos, numa coleção obscura de compactos da família lá em casa, veio com a forte recomendação do pai: "BAH, ESSA É MUITO BOA." Resolvi apostar no conselho paterno e botei pra tocar. Jesus suado. O som que saía daquele vinil era surreal. Fui conferir a data do disco e não acreditei: 1977. Impossível. Parecia mais moderno do que TUDO que já tinha ouvido até hoje. Tratei imediatamente de baixar a música pra ter no computador também, mas depois de um tempo esqueci que ela existia no HD.
Pois ao fazermos um churrasco nessa última segunda, em pleno feriado de Australian Day, a famigerada música cai no SHUFFLE AMIGO e percebo que o Nego está em chamas, assim como o Gui, parceiro dele e do Lique que está de férias em Sydney. Transtornado, o Nego diz que é igual a uma música do CHEMICAL BROTHERS, e puxa seu iPod pra conferir. Me pergunta de quando é eu (erroneamente) digo que é de 1979, "O MELHOR ANO".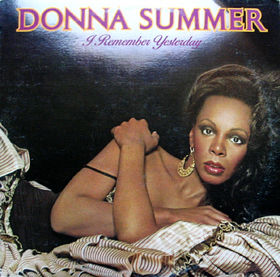 HISTORY IN THE MAKING
A música que o Nego me mostra é Out Of Control, e a semelhança é realmente impressionante. Vejo que ele ficou abalado com a descoberta musical, tanto que no dia seguinte, me manda um link da Wikipedia sobre o criador desse petardo, Giorgio Moroder. Eis que ele, um cara chamado Pete Bollette e a Donna Summer criaram um álbum conceitual (como os outros três que ela tinha lançado antes) em 1977, chamado I Remember Yesterday.
Apesar da música Can't We Just Sit Down (And Talk It Over) ter sido escolhida pro lado A do single, foi justamente com o lado B, I Feel Love, que CAIU A CASA. A faixa é tão moderna que é compreensível achar que ela não pode ter sido feita em 1977 e sim em 1997. Não por acaso, eis o que diz o verbete sobre a música na Wikipedia:
"Previous disco tracks had usually been backed by an acoustic orchestra, and it has been reported that this was the first ever track to use an entirely synthesized backing track, which would later help develop genres of music such as dance and techno."
A lembrança do som das raves é imediata, como aparece na página dedicada a Donna Summer no AllMusicGuide: "I Feel Love" was the first major pop hit recorded with an entirely synthesized backing track; its lean, sleek arrangement and driving, hypnotic pulse laid the groundwork not only for countless Euro-dance imitators, but also for the techno revolution of the '80s and '90s.".
Mas talvez nada seja mais definitivo do que o comentário que esta no vídeo de I Feel Love no YouTube e que transcrevo aqui abaixo. Para o pessoal DESCOLADO, sugiro com atenção o texto pra tentar entender de onde vem TUDO O QUE SE OUVE HOJE EM DIA:
bleepwiver (1 day ago) Show Hide
0
Marked as spam
Reply | Spam
According to David Bowie, then in the middle of his own groundbreaking 'Berlin Trilogy', its impact on the genre's direction was recognized early on:
One day in Berlin ... Eno came running in and said, 'I have heard the sound of the future.' he puts on 'I Feel Love', by Donna Summer He said, 'This is it, look no further. This single is going to change the sound of club music for the next fifteen years.'
Por isso, quando o Nego me mandou uma mensagem hoje ÀS DUAS DA MADRUGADA dizendo que tava tocando I Feel Love na festa que eles estavam, me senti no dever moral de escrever este post e, quem sabe com sorte, influenciar pessoas a irem atras das influencias das músicas que elas ouvem e que muitas vezes consideram inovadoras. Com voces, A música: