Quando as luzes da Acer Arena se acenderam no final do show e vi um magrão com a frase do título deste post estampada na camiseta, senti que estava fazendo parte de algo importante: um dos maiores shows de rock que se pode ver. Bruce Dickinson, Steve Harris, Dave Murray, Adrian Smith, Janick Gers e Nico McBrain fazem uma escalação dos sonhos. Os melhores de todas as formações da banda, num só palco. Só podia dar coisa boa.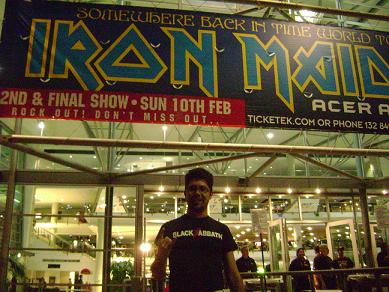 Mais fotos do massacre aqui, como de praxe.
E deu. Num começo arrasador com imagens da banda aterrisando no avião guiado por Bruce seguido pelo trecho de um discurso de Winston Churchill, a hecatombe estava prestes a se formar. Aces High botou fogo em tudo e daí em diante, foi uma destruição total. O fundo de palco mudava à medida em que as músicas trocavam de disco, com cenários evocando as capas do Powerslave e do Somewhere in Time, principalmente.

Caiu a casa nesse instante
Bruce Dickinson é uma atração à parte, como todo vocalista deveria ser. Se movimenta o tempo inteiro, incorpora figurinos e gesticula sem parar. Que ele usa mas melhores calças do rock eu já sabia, mas vê-lo ao vivo é uma experiência única. Mesmo a voz não sendo tão potente como antes (especialmente naquelas notas absurdamente altas), ele sempre será um dos maiores vocalistas de todos os tempos.

Que riff fatal, meu bom Deus
E eu não tenho do que reclamar, já que 50% das músicas que coloquei como favoritas aqui no blog foram tocadas. Quando Can I Play With Madness foi executada, juro que pensei em rasgar meu passaporte e ser pedir pra ser deportado no 757 da banda. Isso sem falar na música anterior, Heaven Can Wait, que contou com um coro de fãs que foram convidados a subir ao palco, numa catarse coletiva do metal.

Maior pop do universo
Quando Eddie entrou no palco durante Iron Maiden, tive certeza de que estava diante de algo memorável. É assim que um verdadeiro show de rock deve ser. Todo o resto é farsa em forma de música. Assim que a música acabou, todo o ginásio começou a gritar o nome da banda, aguardando o bis. E ele veio arrasador, na forma de Moonchild, The Clairvoyant e Hallowed Be Thy Name, pra não deixar dúvida do baita show que estávamos assistindo.
No final, só me restou deixar a câmera ligada pra registrar a marcha triunfal dos súditos da Donzela de Ferro ao deixar o front do rock com um lema permanente: HEAVY METAL LIVES.
Sempre.
- Intro - Churchill's Speech / Aces High
- 2 Minutes To Midnight
- Revelations
- The Trooper
- Wasted Years
- The Number Of The Beast
- Run To The Hills
- Rime Of The Ancient Mariner
- Powerslave
- Heaven Can Wait
- Can I Play With Madness?
- Fear Of The Dark
- Iron Maiden
- Moonchild
- The Clairvoyant
- Hallowed Be Thy Name