Não lembro onde eu estava na noite do dia 15 de abril de 1999. Provavelmente bêbado em algum bar de reputação duvidosa, visto que saía seis vezes por semana nessa época. O que sei com certeza é que eu não estava no Jockey Club de Porto Alegre, assistindo ao show de uma das maiores bandas do universo.
Sim, os mais guerreiros já se ligaram: estou falando do show do KISS. O motivo de eu não ter ido a esse concerto dos sonhos tem a ver com o meu gosto musical à época. Como já comentei com vários amigos que me perguntaram estupefatos como eu tinha deixado passado a oportunidade: eu vivia uma fase extremamente indie. Isso mesmo. BELLE AND SEBASTIAN era mais importante do que Kiss naqueles dias (e inclusive do que METALLICA, minha paixão por muitos anos e que também tocou em POA no mesmo ano).
Sei que essa desculpa é inaceitável e já pedi perdão aos amigos, mas essa é a verdade. Como não se pode voltar no tempo, nunca sentirei o que foi estar lá vendo aqueles quatro mascarados detonar o rock and roll. E isso é fato.
Porém, o mundo dá voltas. Bastante, eu diria. Tanto que me encontro do outro lado do globo, na Austrália. "Tá, e daí?", pergunta o leitor irritado com tanta divagação. Daí que estando aqui eu terei a oportunidade de ver essa banda estupenda ao vivo, finalmente:

"...mas os meus cabelos, quanta diferença!"
Sim, dia 20 de março eu voltarei a Acer Arena pela terceira vez nesse ano pra esse show antológico. Ok, não é a formação clássica banda (Tommy Thayer substitui Ace Frehley e o mestre Eric Singer ocupa o lugar do Peter Criss), mas pra quem é fã da fase UNMASKED da banda, sendo inclusive membro da comunidade KISS - UNMASKED ERA 83-95 no Orkut, essa formação tá excelente.
E até porque vou lá pra ver, acima de tudo, o homem com as melhores expressões faciais do rock: PAUL STANLEY. Coincidência ou não, nesse exato momento estou escrevendo da nossa casa, que fica no seguinte endereço: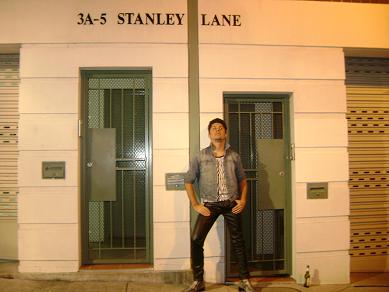 A roupa também é em homenagem ao mestre. Mais fotos aqui
Pra variar, farei uma série de posts sobre a banda aqui. Mas seria bem peculiar (quem me conhece já deve imaginar).
ATÉ.