Novo Garfada

Peço desculpas aos leitores pelo marasmo reinante neste blog nos últimos tempos, mas estava realizando algumas mudanças importantes -- para não falar em estar trabalhando horrores e, depois, curtindo merecidas férias. Bem, como já aconteceu com o Martelada e o Conversas Furtadas, este veículo de gastronomia ganha uma nova casa a partir de hoje:
A estréia é em alto estilo, com uma resenha sobre restaurantes colombianos -- para compensar o design ainda meio tosco.
Não se esqueçam de atualizar seus leitores de RSS. O novo link é http://feeds2.feedburner.com/garfada.
Marcelo Träsel | 13.02.2009, 23:59
Suco de milho

Esses dias, voltando de Santa Catarina, paramos no posto Irmãos Benetti, em Torres, para almoçar o famoso a la minuta do local -- famoso mais por suas quantidades absurdas, apenas uma porção pode servir até três pessoas com uma fome normal. Já tinha visto máquinas de suco de milho em alguns outros estabelecimentos do litoral. Resolvi provar. A foto abaixo mostra minha reação ao primeiro gole:
O sabor é muito parecido com o da pamonha. O "suco" na verdade é uma vitamina de milho batido com leite, bem denso e levemente doce. Creio que faltou um pouco de gelo no copo, para não ficar tão embuchante. O veredito é que o suco de milho não é ruim, mas também não pediria de novo. Meio sem graça.
Marcelo Träsel | 30.01.2009, 12:06
Melão desidratado

Os supermercados Zaffari de Porto Alegre finalmente têm uma das melhores coisas do mundo para oferecer: melão desidratado. Sério, tem um sabor inacreditável. Quase uma bala de goma natural. É da importadora Irmãos Benassi, mas o rótulo não informa o país de origem. Custa caro, algo entre R$ 10 e R$ 15 por uma embalagem com 200g, mas vale a pena vez ou outra.
Marcelo Träsel | 13.01.2009, 17:26
EXTRA! Sorvete de pistache de verdade!

Amo pistache. Passei a vida pedindo sorvete de pistache quando ia pela primeira vez a uma sorveteria e passei a vida me decepcionando. Na praia de Garopaba, Santa Catarina, finalmente consegui superar essa frustração de provar "sorvetes de pistache" com sabor de perfume.
A sorveteria .BOM oferece um sabor chamado "pistache verde de Bronte" que tem o sabor exato da castanha. Chega a ser quase salgado. Custa uma pequena fortuna -- R$ 6,50 -- por um pote relativamente bem servido, mas vale a pena, acreditem. Bronte é uma região da Itália, na ilha da Sicília, cuja principal atividade econômica parece ser a produção de pistache. Não sei se a essência do sorvete é feita lá, ou se é apenas uma referência cultural.
A sorveteria .BOM tem bufê, com sabores mais ou menos tradicionais, e vende sabores especiais por bola, com valores entre R$ 4,50 e R$ 6,50. O sorvete é artesanal, feito com creme de leite no lugar de gordura vegetal hidrogenada. Outras opções excelentes são avelã, torta de limão, pêssego com Amaretto, tiramisú e goiaba.
SORVETERIA .BOM
Av. Prof. João Orestes de Araújo, 300 - Mapa
Garopaba - Santa Catarina
Marcelo Träsel | 9.01.2009, 20:38
MDC gastronômico

Hoje no Café dos Cataventos, na CCMQ, eu e minha esposa decidimos pedir um pão de queijo cada. Depois de dez minutos, o garçom apareceu para anotar nosso pedido, mesmo com o café semivazio. Cada pão de queijo custava R$ 2,00 e era do tamanho -- não, menor -- do que os pães em um saco comprado no supermercado. Decidimos não pagar pelo serviço. Conversa no caixa:
"Oi, não queremos pagar os 10%. Demorou dez minutos para o garçom aparecer".
"Dez minutos não é muito em um restaurante".
"Foi dez minutos para vir anotar nosso pedido".
"Quem sabe no shopping não demora".
"Quem sabe da próxima vez eu vou no shopping".
Tudo isso é prelúdio para um argumento bem simples: mesmo quem não visita grandes redes de restaurantes se beneficia delas. Restaurante nenhum sobrevive em um shopping se não for melhor que o McDonald's. Em países em que o fast food é para o povão, não para a classe média como é no Brasil, pizzarias precisam ser, no mínimo, melhores ou mais rápidas que o Domino's. Cafés precisam oferecer alguma vantagem sobre o Starbucks. E assim por diante. Experiências como a que tive hoje são mais comuns do que deveriam porque falta um concorrente forte que eleve o mínimo denominador comum.
Feliz Natal!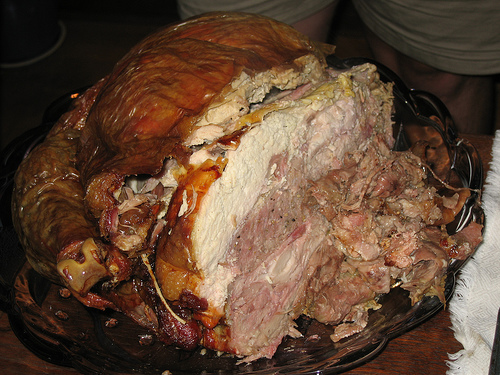 Já que eu não consegui arranjar tempo de publicar algumas sugestões de receitas para o Natal aqui, fiquem com essa bela imagem do turgooduccochiqua. Trata-se de um ganso recheado com um peru recheado com uma galinha recheada com um pato recheado com um frango recheado com uma codorna. Juro que no ano que vem vou tentar fazer algo assim, nem que seja um mero perupatolinha.
Dica do Mojo, lá no O de sempre nunca.
Marcelo Träsel | 24.12.2008, 17:23
Restaurante Kos fechou

Recebo por correio eletrônico a notícia de que o restaurante Kos encerrou suas atividades. Conforme Caco Zanchi, "infelizmente Porto Alegre não compreendeu nossa proposta". O chef vai para o clássico Bar Líder. A mensagem avisa que "nada foi mudado no Líder". Faz sentido o alerta, até porque se o Kos fechou é porque as pessoas não gostavam muito da comida. Eu gostei na única vez em que fui lá, portanto lamento.
Marcelo Träsel | 22.12.2008, 17:46
Sugestões de presentes para o Natal

Se você ainda não comprou presentes para todos os seus parentes e amigos que se comportaram bem durante o ano, aí embaixo está uma lista de livros provados e aprovados pela equipe deste blog. Se você comprar através dos links para a Livraria Cultura fornecidos, poderá contar com a conveniência de receber os produtos em casa e ainda doará 4% de sua compra para que possamos continuar testando livros e restaurantes para você.
Em geral, escreveria resenhas para cada obra, mas o tempo anda escasso. Em todo caso, clicando aqui você encontrará posts com comentários sobre esses livros.
PORTUGUÊS
Cozinha Confidencial e A cook's tour in search of the perfect meal, de Anthony Bourdain
Larousse do Chocolate, de Pierre Hermé
Fundamentos da cozinha italiana clássica, de Marcella Hazan
Deve ter sido alguma coisa que eu comi, de Jeffrey Steingarten
O connaisseur acidental - uma viagem irreverente pelo mundo do vinho, de Lawrence Osborne
100 Receitas de Macarrão de Silvio Lancellotti
INGLÊS
Pleasures of the Vietnamese table, de Mai Pham
Twinkie, deconsctructed, de Steve Ettlinger
Mindless eating, de Brian Wansink
The seventh daughter, de Cecilia Chiang
Food: a history, de Felipe Fernandez-Armesto
FRANCÊS
Marcelo Träsel | 19.12.2008, 17:17
Borscht branco

Esses dias minha amiga Sabrina Fonseca comentou sobre o quanto anda viciada em borscht branco, uma sopa polonesa típica da Páscoa, também conhecida como żurek. Sabrina mora em Greenpoint, bairro polonês de Nova York. Gosto muito do borscht normal e ainda mais de hypes nova-iorquinos, então fui atrás de uma receita. Descobri que, enquanto o borscht normal é reconhecido pelo tom vermelho da beterraba, o branco do żurek vem do líquido de farinha de centeio fermentada.
BORSCHT BRANCO
3 xícaras de farinha de centeio

6 xícaras de água

3 litros de caldo de legumes

2 cenouras

1 cebola média

Aipo

Salsinha

Alho-poró

1/2 quilo de batatas

500g de lingüiça fatiada

Alho
Na foto ao lado dá para ver três xícaras de farinha de centeio fermentando com oito xícaras de água. É importante ferver a água por dois motivos: primeiro, evitar contaminação por bactérias e fungos indesejados; segundo, evaporar o cloro, que pode prejudicar a fermentação ou dar um sabor estranho. Só deixe esfriar um pouco antes de misturar 3/4 da farinha para cada 2 xícaras de água. Isso rende 2 xícaras de líquido, suficiente para muita sopa. Esfarele uma fatia de pão de centeio dentro, para inocular a levedura adequada. A receita sugeria deixar o processo ocorrer por dois a cinco dias, dependendo do nível de azedume desejado. Por segurança, resolvi fermentar por apenas dois dias em um vidro de boca larga coberta por um pano de prato. Não se assuste com o aspecto, a coisa não vai sair andando. Se você vir bolhas como as da foto se formarem, é porque está funcionando. Quando estiver fermentado a gosto, filtre através de um pano para obter um líquido parecido com o da foto abaixo.
Parece vômito e tem cheiro de vômito. Só pude realizar essa receita sob protestos de minha mãe e da Tati. No entanto, incrivelmente, o sabor final é ótimo. Confie em mim. Prepare um caldo de legumes com a cebola, a cenoura, um pouco de aipo, salsinha e alho-poró. Deixe ferver por duas horas. Descarte os vegetais e então junte a batata picada e sal. Cozinhe as batatas e aí acrescente um ou dois dentes de alho amassados e a lingüiça fatiada, bem como o fermentado. A receita previa usar uma colher de farinha de trigo dissolvida em água para engrossar, mas achei desnecessário. Deixe ferver mais um pouco e então corrija o sal.
Teria usado pimenta do reino como tempero, mas estava sem. Na verdade, fiquei surpreso com a pouca exigência de temperos para o borscht branco. Provavelmente se deve ao fato de que não crescem muitas ervas nas regiões frias onde teve origem. Talvez por isso o uso de centeio fermentado: dá um sabor especial. Ao servir, sugiro salsinha, ovo cozido e molho inglês, bem como um bom pão integral para acompanhar.
Marcelo Träsel | 15.12.2008, 1:36
De onde vem o polissorbato 60?

Um livro interessante tanto para quem se interessa por alimentação quanto para quem se interessa por jornalismo é Twinkie, Deconstructed, de Steve Ettlinger. O repórter americano foi questionado durante um piquenique com seus filhos pequenos sobre os ingredientes de uns doces que estavam comendo. Sua filha perguntou se polissorbato 60 dá em árvores e ele se viu sem saber responder. Daí surgiu a idéia de buscar a origem de todos os ingredientes que constam no rótulo do bolinho industrializado Twinkie.
A reportagem acaba abarcando quase toda a comida processada que se encontra nas prateleiras dos supermercados. Qual produto hoje em dia não tem dextrose ou açúcar invertido em sua composição? Ou gordura vegetal hidrogenada? Ou corantes e flavorizantes? Essa busca levou Ettlinger a lugares como China e Suíça. Aliás, não foi uma pesquisa fácil. A maioria das empresas não se manifesta a respeito da manufatura de produtos químicos, seja por segredo industrial, seja por aversão à transparência, seja porque alguns engenheiros nem mesmo sabem quem realmente fabrica seus ingredientes. Trata-se de um grande labirinto de conglomerados e outsourcing. A própria fabricante dos Twinkies, a Hostess, nunca falou oficialmente a Ettlinger.
Descobrem-se coisas fascinantes. Um dos preservativos mais usados e mais potentes, por exemplo, é absolutamente inofensivo. O ácido sórbico, de fato, é considerado mais seguro do que sal pela FDA. A baunilha é a semente da vagem da única orquídea conhecida a dar frutos, fermentados por algumas semanas ao ar livre nas selvas de Madagascar. Porém, a baunilha que vai nos Twinkies e outros produtos de consumo de massa é sintetizada a partir do benzeno, um subproduto do petróleo. No fim das contas, o livro acaba sendo uma reportagem sobre a sociedade industrializada.
O autor termina alertando para a falta de transparência da indústria alimentícia, ou seja, para o fato de que muitas vezes nem mesmo os produtores de pães, biscoitos, sopas instantâneas, sorvetes, chocolates etc. etc. etc. sabem quem são os responsáveis por certos ingredientes. As empresas só obedecem ao mercado e às regras das agências reguladoras. "These are plainly political angles on biology -- there are choices to be made -- so it is up to us to keep on top of things in the food world" (página 258). Isso dito, Ettlinger em nenhum momento adota uma postura condenatória quanto à comida industrializada. Ele reconhece que, no fim das contas, toda culinária é um processo de modificação físico-química.
Ah, sim: o polissorbato 60 é um polímero derivado de milho e óleo vegetal -- depois de, claro, passarem por dezenas de modificações químicas. Ele funciona como emulsificante, ou seja, faz com que a água e a gordura se misturem. No caso do Twinkie, sua função é substituir a capacidade estabilizante dos ovos e do leite, que ajudam no crescimento da massa.